Local yet global MY FLORIST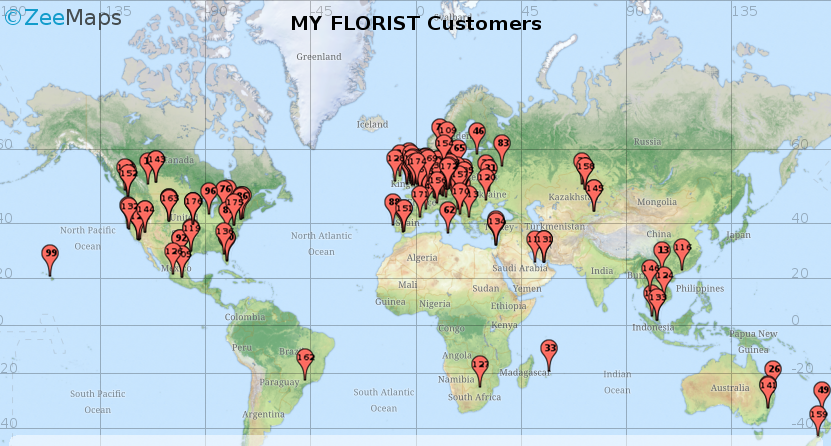 It is the last day of probably the strangest year we have ever experienced, and maybe best time to look at what it meant for MY FLORIST, as it has also been very florally global.
When the first wave of the pandemic arrived, I was terribly afraid we wouldn't make it. With the restrictions came the cancellation of regular orders for receptions of companies, hotels, events and weddings. At that time we already had a working e-shop. And it gave everything a new dimension. 
I would therefore like to deeply thank everyone who ordered flowers from us, these orders came virtually from all over the world. For someone close in Prague. You were all part of our flower story and MY FLORIST was part of yours. I experienced a bit of that happy or special moment with each of you, and when you could not be personally with your love, family member, friend or a colleague, you entrusted this task to us. We did our best to fulfill your wishes to the maximum, with passion for flowers, and many times it was a great adventure!
Each time a new order landed, I clicked with bated breath at the address where it came from...places like London, New York or Paris, including Prague, of course. But some places really surprised me, and speachless I began to understand the power of the Internet. Many of you are returning, even several times, and even gave us great reviews. This makes it all worthwile. 
Come and have a look into our order location history, and search for your own. And if you can´t find it, send me a complaint! :)
Australia - Manly, Surfers Paradise, Sydney
Austria - Ramsau am Dachstein, Vienna
Belgium - Brussels, Gembloux, Ottignies, Sint-Truiden
Bosnia and Herzegovina - Sarajevo
Brazil - Sao Paolo
Bulgaria - Petric
Canada - Burlington, Calgary, London, Roberts Creek, Sedalia, Vancouver
Czech Republic - Brno, Hostivice, Kunice, Kyjov, Liberec, Most, Olomouc, Pilsen, Prague, Pruhonice, Pribram, Stara Hut, Uherske Hradiste, Velka Polom
Denmark - Copenhagen
Estonia - Tartu
France - Antony, Avignon, La Courneuve, Paris, Troyes
Germany - Berlin, Düsseldorf, Erfurt, Frankfurt, Gersthofen, Göttingen, Munich, Rosenheim
Hawaii - Waimea
Hong Kong
Hungary – Budapest
Israel - Gezer, Haifa, Hod Hasharon
Italy - Bergamo
JAR - Johannesburg
Kazakhstan - Almaty, Karaganda, Nur-Sultan
Malaysia - Shah Alam
Malta - Qala
Mauritius - Grand Baie
Mexico - General Escobedo, Guadalajara, Metepec, Naucalpan
Montenegro – Podgorica
New Zealand - Christchurch, Whangarei
Norway - Sarpsborg
Poland - Gdansk
Portugal - Lisbon
Qatar - Doha
Republic of Ireland - Cork, Dublin
Russia - Moscow
Serbia - Belgrade
Singapore
Slovakia - Bardejov, Bratislava, Kosice, Mala Ida
Spain - Barcelona, ​​Malaga, Marbella
Sweden - Malmö, Mariestad
Switzerland - Herrliberg, Wetzikon, Zürich
Thailand – Bangkok
The Netherlands - Amsterdam, Berlicum, Rijnsburg, Utrecht, Voorschoten, Wageningen
Ukraine - Kiev, Odessa, Zalevki
United Arab Emirates - Ajman, Dubai
United Kingdom - Burnham-on-Sea, Canterbury, Claverham, Hassocks, Chelmsford, Leicester, London, Milton Keynes, Newbury, Oxford, Portsmouth, Prestbury, Rochdale, Rochester, Romney Marsh, Staines-upon-Thames, Staveley, Taunton, Walton-on-Thames, Walsall, Wallington, West Byfleet, Woodbrige
USA - Beverly Hills CA, Bow WA, Bronxville NY, Broomfield CO, Corona CA, Falls Church VA, Fort Lauderdale FL, Harrison NJ, Highland Park IL, Houston TX, Lake Forest CA, Leawood KS, Los Angeles CA, Miami FL, New York NY, North Las Vegas NV, Orlando FL, Overland Park KS, Ridgewood NJ, San Francisco CA, Seattle WA, Stafford TX, Stamford CT, Sunnyvale CA, Timnath CO, Winston-Salem NC
Vietnam - Hanoi, Ho Chi Minh
I wish you all for the upcoming year 2021 not only a lot of much-needed health, negative tests and positive mind, but may you find a way in fulfilling your dreams. Maybe those which will be somehow beneficial also to your surroundings, will make life easier or bring a smile on someone´s face.
As a wise head once said: "Love what you do and you will never have to work for the rest of your life." Your life will never be the same, believe me, because one dream is already coming true. Beware, this road is not an easy one! I might tell you this story next time...from airplanes to flowers... :)
PF 2021
Katka
---